Interview by maxmovie
Translated by Wid Kosoo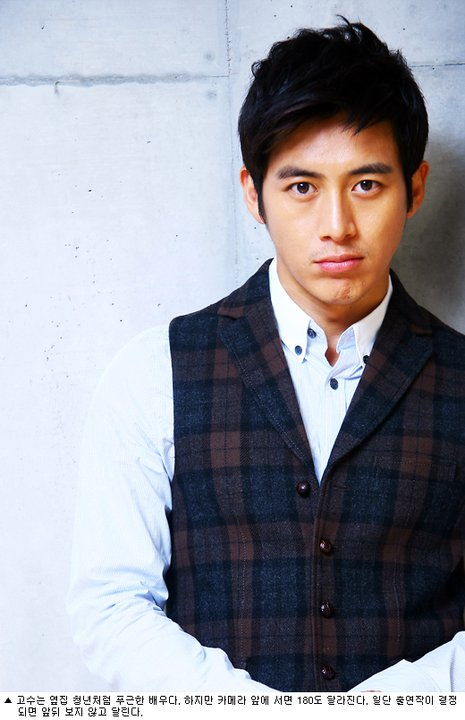 Ko Soo is an actor who strict to himself. An intense strictness without cessation may need to get the power that actor has to provide.
Above all, Ko Soo's desire for acting grows and I'm wondering how really good he can be as an actor if he was trying fiercely.
People love his pleasant look.
His inner thoughts were very nice inside. He is eloquent, but throughout the interview he was trying very hard to talk seriously.
"My life is dedicated to the pleasures of acting"
-skipped-
He never has a particular dream to become an actor since childhood, but it was because he didn't enjoy to watch movies that time. Through the Bacchus advertising his face was widely known. Then he started his life as an actor and has to loose a portion of his freedom, but he didn't regret the decision. "My life, my time is devoted to what happened while doing my best to be a good actor."
Ko Soo learns to take on any role to the best prepared, and frozen images of celebrities from the field staff seemed to become truthful. He doesn't have any hobbies but acting itself. He learned to appreciate just how to enjoy the thing he knew. After military service, he is working and working
in a row without gaps to relax.
Ko Soo
has a 'proper boy' image and wanted to jump over. "I myself do not know me too well, due to preconceived notion. People had higher expectations of me in a way. As for this I'd like to concentrate more on acting. To impress the audience with my performance as you wish." His words are now building their own departure from the regulations as an actor, you want to broaden the range of acting against his wishes were dissolved intact.
-skipped-
Ko Soo learns a lot. Be moderately fashionable or refuse to see a gap is not just how to package yourself. He immediately took the challenge on the stage after his military service where he can put in a long breath and have learned the secret.
"I learned a lot. Now that you've entered stage and left to stage of musical I saw, I can not get the songs do not even dare to challenge (Laughter)."
The only solution is how to fulfill in the best way
He's a heartwarming guy as
a young man next door. But in front of the camera he's 180 degrees different. He completely erased the character before the new begins. "While I'm working, I don't think about 'How does the outcome of this film, how will raise the audience'. If the audience loves the movie, it's really good, but I think a lot of how to work hard, I'm happy just to enjoy the work."
Ko Soo has his own character as the visual actor. He said nothing, not make a face, even when no blast charisma. Obsession for the actor to fall in turn to focus on the acting moment, the fact that you are familiar with his work for everything he is throwing every time. "I have no other solution but do not just do your best for the role,
given its role as the emotion I was trying to express. Allows the audience to come and can fully understand my role."
There's not much that we know about Ko Soo. What he is and what he eats. People knows a lot about actors, but we know nothing about Ko Soo. He doesn't do
Twitter
or
MySpace
, only managed by his fans. "They have a desire to manage, and have not started to think not. I'd like to be able to do well. "
"I went off the television audience, or does not work for a long time, but I wanted to feel like I'm going to forget as soon as it's over. Because we can find several works. Best are yet to come I'm waiting for a chance to be happy. "